Another opportunity to visit the high country presented itself when I had to deliver my daughter back to her year 9 boarding school at Howqua. I dropped her back late Sat afternoon and continued on to Mt Stirling. I had originally planned to camp at Mt No.3 and do that first on Sun morning, but discovered that Sunday 12 November was the day for the Targa High Country rally and the Mt Buller Rd would be closed all Sun afternoon when I planned to leave! Hence the exit had to be via Mt No. 3 Road/Carter's Rd/Buttercup Rd. That made finishing with Mt No. 3 the most logical order and so I headed first to Howqua Gap campsite for the night.
I arrived at Howqua Gap just after sunset and quickly set up my hammock. This campsite is just off Circuit Rd (2WD) and while it doesn't have a lot of places for tents, there is no lack of trees for hammocks. There are two huts, picnic tables, fireplace and toilets/bins here, so quite civilized.
I had originally planned to drive up Mt Stirling on the Howqua Gap trail (4WD), but discovered that this trail doesn't open until Nov 30 each year, so a bit more hiking was going to be needed. Waking Sun morning around 6:45, I breakfasted and packed up camp. I set off in cool, sunny weather for the roughly 1 hour hike to the summit (4 km). Navigation is easy as you just follow the Howqua Gap trail which is rocky, and steep in spots, but not difficult on foot. It requires a high clearance 4WD if driving up in summer.
Arriving at the summit, there were purple wild flowers (Alpine Hovea) everywhere and no one else around. The weather was sunny and with only a very light breeze. I set up my thin Aliexpress special squid pole and my 40m long EF 80-10 antenna (write up on this coming). There is a convenient information post just near the summit trig which is ideal for attaching squid poles – no trees anywhere on this summit.
As I finished setting up, I saw a parks spot come up for VK2AWJ/P on 7.144 and so nabbed him as my first contact. I then spotted and called on 7.090 and it was fairly slow going with relatively weak signal reports. I tried 80m, but had no response at all and then gave 20m a go. I had more success here with VK4/5/7 contacts who I normally get on 40m!
After comfortably qualifying it, I packed up and hiked back down to the car at Howqua Gap (a bit quicker – 50 min – going down hill). As I was packing up my gear, I'd noticed that the EFHW transformer was rattling more than usual, so I suspected something had come loose.
Back at Howqua Gap, I opened up the case and found a cracked joint on one of the solder lugs. Thankfully I had my butane powered soldering iron with me and quickly re-soldered it. That may have explained some of the poor signal reports I received on Mt Stirling too.
I drove the approx 7km back along Circuit Rd to Razorback camp site which was full of horses and riders. From here it's a fairly easy 1.8km hike to the summit of Mt Winstanley. The only challenge being to find the start of the foot track where it departs from the main mountain bike/ski trail. I have uploaded a GPS track to the SOTA Maps site.
Razorback huts are used by trail riding groups quite regularly in summer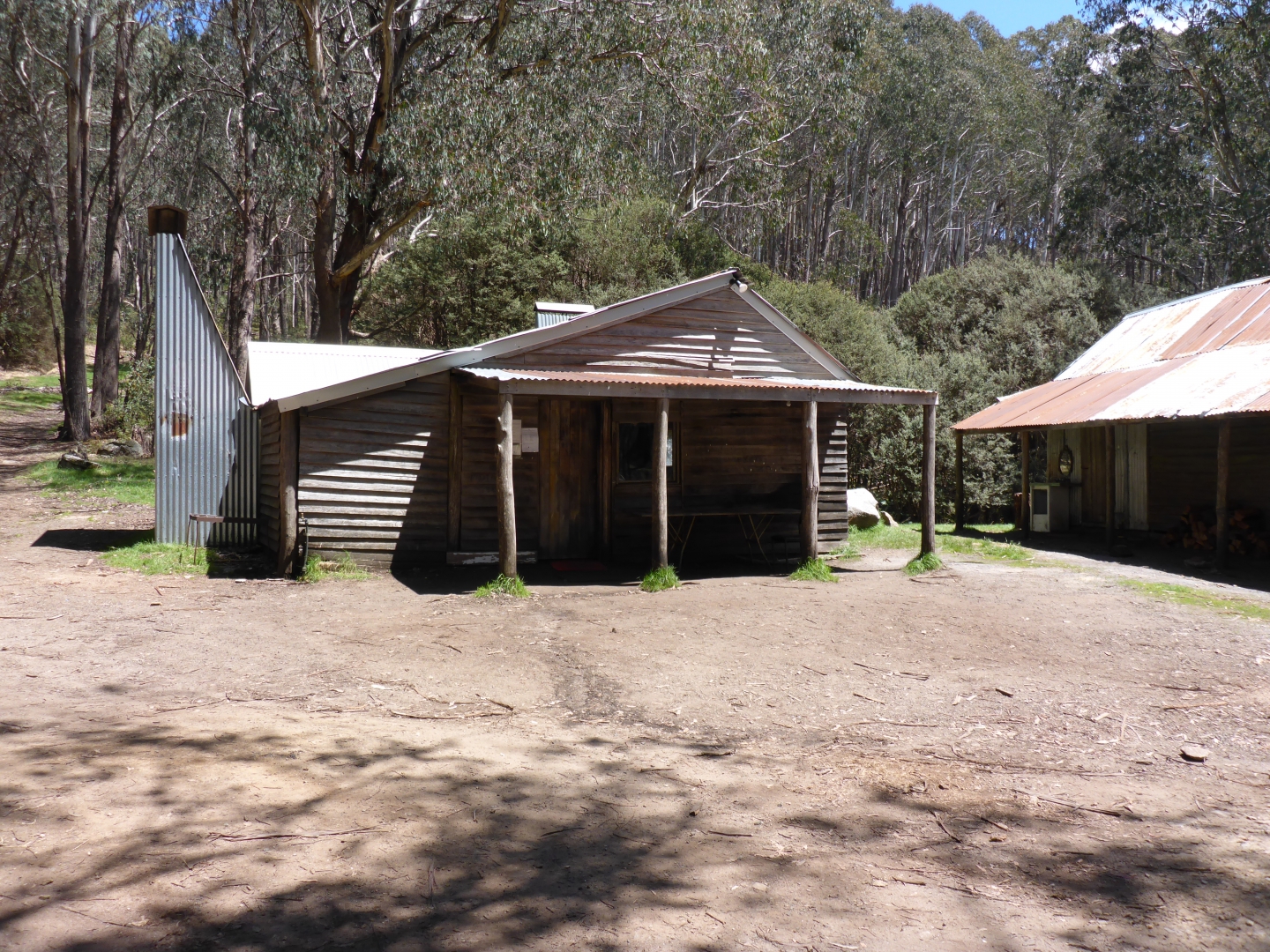 The weather remained fine and sunny with a light wind and comfortable temperature. Mt Winstanley has plenty of trees at the summit, so I used a throw line to suspend the EF 80-10 antenna and set up on the grass in some dappled shade – a very pleasant operating spot.
This time, the first in the log was Peter VK3PF on VK3/VC-031 (Arthur's Seat) for a S2S on 40m signals seemed a little stronger here, but that may have been the poor solder joint on the first summit! This time, I worked 2 stations on 80m in East Gippsland and Wagga Wagga. 20m yielded contacts in VK5/6/7.
Returning to Razorback campsite was straight forward and I then drove on towards Mt No.3 on Mt No.3 Road. It's about 8km from Razorback campsite to Mt No.3 on a reasonable dirt road. As you approach Mt No.3, the road has some very large spoon drains which could challenge a low clearance car, but I think a Subaru would probably get very close.
A kilometer or so before the summit, there is Mt No.3 Refuge Shelter – a fairly recently re-built hut in excellent condition. This would make another great camp site.
The actual summit of Mt No.3 is on Weston track (definitely high clearance 4WD only) a couple of hundred meters from the intersection of Mt No.3 Rd. The summit area is fairly flat and hence has a large activation zone that extends to include the intersection.
About 100m up Weston track there is a very large flat grassy camping area with sparse woodland around it. This is a great spot to activate from and one of the nicest operating spots I've been in for a while – really it's like a park!
I found a convenient tree branch to hang the antenna and set up on the grass in the shade. The only negative of this spot were quite a few flies attracted by horse manure – this is clearly used as a trail riding camp site too.
Getting on the air around 4:15pm, I was a bit concerned that there may not be so many chasers around. I called for quite a while on 40m and only had one taker. 80m netted Peter VK3PF and Tony VK3CAT only. Switching to 20m, things got more interesting. I picked up Nev VK5WG followed by Andrew ZL3CC. I then had a big surprise with a call from Mark KM4AHP in South Carolina. The contact was hard, but we made it with a few repeats – not bad on 10W SSB! It even prompted me to send out some QSL cards that I haven't done in a couple of years.
I finished the day chatting with Paul VK5PAS/3 and Marija VK5FMAZ/3 activating Lind National Park for the KRMNPA parks weekend.
From here, I packed up and continued on down Mt No.3 Rd to Carter's Rd. I strongly suggest not using the section of road from Mt No.3 to Carter's Rd unless you are in a high clearance 4WD with all-terrain tyres – it is very rough with lots of sharp rocks and I think road tyres would likely be shredded.
Due to the Targa Rally, I had to take Buttercup Rd back to the Mt Buller Rd to avoid the closed section. There are three nice looking campsites down this road on Buttercup creek – useful to know about if Carter's Mill camp is full. Again, only use this road in a decent 4WD as there are two creeks to be forded (however the creek fords are past all the campsites, so fine for a 2WD as far as the last campsite coming from Carter's Rd end of Buttercup Rd).
Three hours later I was back home after a satisfying and productive day in the mountains with glorious weather.
Mt Stirling
Mt Winstanley